AuthorAID Team
INASP Staff who work on AuthorAID
Andy Nobes, Programme Specialist; AuthorAID Manager
Sioux Cumming, Programme Specialist
Josephine Dryden, Programme Assistant
Alaka Bhatt, Programme Assistant
Ravi Murugesan, Associate - Moodle administrator; Facilitator
For more information on INASP Staff, please see the INASP website
AuthorAID Stewards Team
The AuthorAID Stewards play an important role in strategic direction, content development and administration of AuthorAID iniatives, in collaboration with the AuthorAID team at INASP. The Stewards team is made up of experienced volunteers from the AuthorAID community who have contributed significantly to online courses and online mentoring initiatives. If you are interested in being part of the team, please email anobes@inasp.info
Felix Emeka Anyiam (Steward 2021)
Centre for Health and Development, University of Port Harcourt, Nigeria
Felix is an accomplished Researcher, Analytics and Data Science professional with a demonstrated ability to develop and implement data-driven solutions in the Urban and Health sector; with over 10 years' experience in teaching and leading Epidemiological, Biostatistical and Data Science projects, from descriptive to predictive analytics. He is also a trained Research Scientist, Scientific Writer and Epidemiologist in his day-to-day duties at the Centre for Health and Development (CHD); a Centre that evolved from several years of international research collaborations between the University of Port Harcourt and the Dalla Lana School of Public Health at the University of Toronto, Canada, and most recently, the University of Ottawa, Canada. CHD aims to develop the human and organizational capacity for health-related research and quality health care provision in the Niger Delta region of Nigeria, built on sustainable local structure, and international collaborations. He is one of the guest facilitators for AuthorAID online courses, a Biostatistician for the AuthorAID Online Journal Clubs pilot project, and also advises on a potential curriculum for a statistical/data analysis online course.
Bernard Appiah (Steward 2020, 2021)
Syracuse University, New York, US 
Bernard is a Ghanaian public health professional, science journalist, development communicator and a pharmacist with a passion for teaching, research and service. He is an assistant professor at the Falk College of Sport and Human Dynamics. His research centres on translational communication science to influence population health practice and policy in low-income and minority populations in the US and beyond. 
AuthorAID presentations: 
Alejandra Arreola (Steward 2020, 2021)
Universidad Autónoma de Nuevo León, Monterrey, Mexico
Alejandra is a biologist with a master's degree in Science and Technology Journalism from Texas A&M University. She works at the Universidad Autónoma de Nuevo León, in Monterrey, where she teaches science writing to graduate and undergraduate students. She facilitates our research writing courses in Latin America and co-facilitates on some of our global online courses.
AuthorAID blog posts: 
Buna Bhandari (Steward 2020, 2021)
Assistant Professor, Epidemiology, Tribhuvan University, Institute of Medicine, Nepal and PhD Candidate in Public Health, University of New South Wales, Australia
Buna is working as an Assistant Professor of Epidemiology in the Central Department of Public Health at Tribhuvan University, Nepal. Currently, she is pursuing her PhD in Public health at the University of New South Wales, Australia. The focus of her research is on the prevention of cardiovascular disease using mHealth (mobile health) in Nepal.  She also works as a peer reviewer for BMC journals. She has authored book chapters and published multiple papers in various indexed journals. She has more than ten years of experience working as an academician and researcher. She has been involved in teaching-learning activities for medical, public health and nursing students and has independently supervised various student research projects. Her area of interest includes epidemiological studies, NCDS especially cardiovascular diseases, maternal and child health issues like domestic violence and its effects etc. When not working, you can find her reading books, meditating and exploring nature. She is one of the guest facilitators for AuthorAID online courses.
Barbara Burmen (Steward 2021)
Havard T Chan School of Public Health & University of Cape Town, South Africa
Dr Burmen holds a Bachelors' degree in Human Medicine and Surgery, a Masters' Degree and a Doctorate in Public Health. She undertook a postdoctoral research fellowship at Harvard University and the University of Cape Town and a Policy fellowship at the Eunice Kennedy Shriver National Institutes of Child Health and Development, funded by the inter-academy partnership. She has over 17 years' experience in HIV clinical, programmatic, research, science policy and consulting fields with interests in operations research and professional mentoring. She joined AuthorAID in2016 initially as a trainee, then a mentor and guest facilitator. She has authored 30 publications, the Kenya AIDS Response Progress report for 2018 and made 25 international conference presentations and has received international recognition for innovations in clinical practice, policy and research, sustainable public health, interdisciplinary sciences, promoting the clinician-laboratory interface, influencing laboratory policy development and mentoring.
AuthorAID blog posts:
Prof. Dilshani WN Dissanayake (Steward 2020, 2021)
Professor in Physiology, Neuroscientist in charge, Neuroscience research Laboratory, Department of Physiology
Director, Research Promotion and Facilitation Centre, Faculty of Medicine, University of Colombo
Prof. Dilshani Dissanayake has been collaborating with AuthorAID via the Research Promotion and Facilitation Centre (RPFC) at the University of Colombo since 2013. Dilshani spearheaded the initiation of a tailormade research writing support program which includes online training and onsite writing clubs, with the support of AuthorAID, to the Faculty of Medicine, Colombo and at partnering higher education institutions in Sri Lanka. She, with her group in RPFC, has commenced a hybrid course on post-graduate research skills for researchers in Sri Lanka. The RPFC, under her leadership, provides research training and counselling for researchers, conducts writing clubs and journal clubs, supports national and international research collaborations and facilitates publicizing research while supporting researchers toward inventions and innovations. She is currently leading a team of multidisciplinary researchers at the University of Colombo, who are researching the effects of meditation on health.
AuthorAID blog posts: 
Dr. Funmilayo Doherty (Steward 2020, 2021)
Yaba College of Technology, Nigeria
Dr.  Funmilayo Doherty is an Environmental Toxicologist and a lecturer at Yaba College of Technology (YCT). Dr. Doherty is a member of several professional bodies including the Organization for Women in Science for the developing world (OWSD). She has over 45 publications in reputable Journals and co-authored six books. She is a former Coordinator, UNESCO UNEVOC Centre, YCT. She is one of the guest facilitators for AuthorAID online courses and coordinator of the AuthorAID Online Journal Club pilot project, which is focused on Environmental Biology, Chemistry and Toxicology. She is a member of the editorial board of the Journal of Environmental Toxicology and Pollution Mitigation. Dr. Doherty has been invited on several occasions by media organizations to contribute to national discourse on environmental issues in Nigeria. Dr. Funmilayo Doherty is the immediate past President, Society for Environmental Toxicology and Pollution Mitigation (SETPOM) and Vice Chairman of The African Foundation for Quality e-Learning for TVET (AFQueT) based in Kenya.
AuthorAID blog posts:
Professor Richard de Grijs (Steward 2020, 2021)
Macquarie University, Sydney, Australia 
Richard de Grijs is an academic and journal editor with more than 20 years of experience in the field of Astrophysics. After obtaining his PhD from the University of Groningen (Netherlands) in 1997, he held postdoctoral positions at the University of Virginia (USA) and the Institute of Astronomy, University of Cambridge (UK), before being appointed to a permanent post at the University of Sheffield (UK) in 2003. He joined the Kavli Institute for Astronomy and Astrophysics at Peking University (China) in September 2009 as a full professor, where he was promoted to Associate Director in 2012. He moved to Macquarie University (Sydney, Australia) in 2018 to take up an appointment as Associate Dean (Global Engagement).
Find out more about Richard at http://astro-expat.info/about.html
AuthorAID blog posts: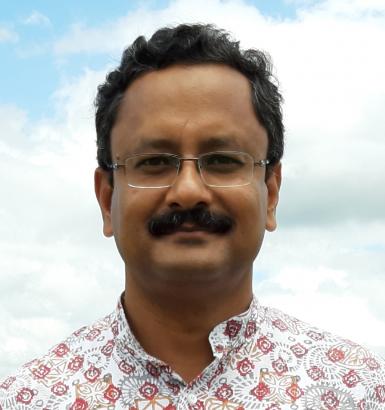 Haseeb Irfanullah (Steward 2020, 2021)
Independent Consultant - Environment, Climate Change, & Research Systems, Bangladesh
Dr Haseeb Irfanullah is a biologist-turned-development practitioner, and often introduces himself as a research enthusiast. Over the last two decades, Haseeb has worked for different international development organizations, academic institutions, donors, and the Government of Bangladesh in different capacities. Currently, he is an independent consultant on environment, climate change, and research systems. He is also involved with University of Liberal Arts Bangladesh as a visiting research fellow of its Center for Sustainable Development (CSD) in Dhaka. Haseeb has served as the editor for the Bangladesh Journal of Plant Taxonomy. His interest in research communication involved him with INASP's activities, particularly BanglaJOL and AuthorAID. Haseeb has been involved in designing and facilitating workshops, training sessions, and dialogues for young & mid-career researchers and journal editors of Bangladesh to improve their understanding of journal publishing practices and standards. A Chef of The Scholarly Kitchen, Haseeb also writes articles and thought pieces on scholarly systems and works with relevant agencies to improve Bangladesh's research ecosystem. Haseeb has a PhD in aquatic ecology from the University of Liverpool, UK.
AuthorAID blog posts: 
Ismael Aaron Kimirei (Steward 2020, 2021)
Tanzania Fisheries Research Institute, Tanzania 
Ismael is an Aquatic ecologist working in marine and freshwater systems, focusing on fish ecology, aquatic resources management, limnology, and climate change. I study marine ecosystems—mangroves, seagrasses and coral reefs—connectivity for marine conservation and fisheries management. I am interested in how habitat degradation and change—both human and climate mediated changes—will affect the provision of ecosystem goods and services to coastal communities. Currently, I am studying the effect of climate change on fisheries productions in, and functioning of, Lake Tanganyika; and how land use and urbanization are affecting water quality in the great east African lakes. I am also working on how urban development in Tanzania is affecting marine coastal habitats, especially mangroves.
AuthorAID blog posts: 
Aurelia Muthoni Munene (Steward 2020, 2021)
Founder Eider Africa and  Executive Director Nascent Research and Development Organization
I like developing and implementing research mentorship programs for upcoming scholars in Kenya and beyond. I am a researcher in children, health, livelihood, youth, education and poverty. The coordinator of the Kenyan based Online Journal Club (Research Club) with over 500 members and facilitator of AuthorAID UK Online Social Sciences Journal Club with 256 members. I am a guest Facilitator Research Writing for the Sciences Course with AuthorAID and a Steward. The current Research Committee Lead for Association for Faculty Enrichment in Learning and Teaching (AFELT) and a member of the Research Data KE Working Group. I am a CODESRIA Laureate of Children and Youth Institute and currently undertaking a Masters in Business Administration Health Care Management at Strathmore University. I hold a Masters in Development Studies, Major in Social Policy for Development from Erasmus University International Institute of Social Studies (ISS), The Hague Netherlands. Facilitating Online Learning Course from e/merge University of Cape Town South Africa. 
AuthorAID blog posts: 
Farooq Azam Rathore (Steward 2021)
PNS Shifa Hospital, Karachi, Pakistan
Dr Farooq is a consultant physician in Rehabilitation Medicine and Pain Medicine at the Pakistan Naval Hospital, Shifa, Karachi. He has published 146 manuscripts including 4 books chapters. He is a member and national representative of Pakistan in several international societies. He has been an invited and plenary speaker at national and international conferences. Farooq joined AuthorAID as a mentee in 2008 and progressed to a mentor and facilitator. He is keen to teach the skills of medical research writing and research ethics to others and has conducted 90 in-person workshops in 5 countries since 2013. The topics included writing a research paper, presentation skills and research ethics. Farooq has been a guest facilitator on several AuthorAID online courses.
Find out more about Farooq at http://www.linkedin.com/in/farooqrathore 
AuthorAID blog posts:
Oluwaseyi Dolapo Somefun (Steward 2021)
School of Public Health, University of Western Cape, South Africa 
Oluwaseyi (Seyi) is a postdoctoral fellow, at the School of Public Health, University of Western Cape (UWC) linked to the UKRI GCRF Accelerating Achievement for Africa's Adolescents Hub. She has over 5 years of professional experience in both domestic and international settings. Seyi is involved in research investigating the cost-effectiveness and acceptability of interventions designed to improve the wellbeing of adolescents in Africa. Her scholarly interests range widely from adolescent sexual and reproductive health, social networks, and mixed research methodology. She is strongly interested in improving the health behaviours of adolescents through health communication and policy dissemination.
Wangari Joyce Ngugi (Steward 2021)
Independent Consultant Psychologist and Mentor, Kenya 
Wangari is a Consultant Psychologist and Research Mentor with 15 years' experience. She is a researcher-storyteller who enjoys mixed methods approaches to illuminate societal issues under Psychology, Deaf/Disability Studies, and Research Ethics, and has disseminated a bevvy of scholarly work and media presentations in the field of diversity and disability inclusion. Her niche in Research Mentorship is empowering researchers' careers in holistic growth and wellness. She is currently completing her Doctor of Psychology, PsyD, Clinical Psychology at United States International University-Africa. Her dissertation is titled "Relationship between Psychosocial Support Concerns and Depression among Deaf adults: A mixed study in Nairobi and Kajiado Counties, Kenya". She earned a global award at the American Psychological Association (APA) Convention 2018 in California, USA for a study titled, "Barriers to Mental Health Access for Deaf Adults in Kenya: A Review". She is a TED Talk 2020 laureate on Humor for Resilience.
Find out more about Joyce at www.wangari.africa
AuthorAID blog posts:
Zainab Yunusa-Kaltungo (Steward 2020, 2021)
Federal Teaching Hospital (FTH), Gombe, Nigeria 
Dr. Zainab Yunusa-Kaltungo, is a plastic surgeon, the former chairman of the medical advisory committee (CMAC) and Clinical Governance lead of the project at the Federal Teaching Hospital (FTH), Gombe in north-east Nigeria. Zainab has been a guest faclitator on several AuthorAID online courses.