AuthorAID Team
INASP Staff who work on AuthorAID
Andy Nobes, Programme Specialist; AuthorAID Manager
Sioux Cumming, Programme Specialist
Josephine Dryden, Programme Assistant
Alaka Bhatt, Programme Assistant
Ravi Murugesan, Associate - Moodle administrator; Facilitator
For more information on INASP Staff, please see the INASP website
AuthorAID Stewards Team
The AuthorAID Stewards play an important role in strategic direction, content development and administration of AuthorAID iniatives, in collaboration with the AuthorAID team at INASP. The Stewards team is made up of experienced volunteers from the AuthorAID community who have contributed significantly to online courses and online mentoring initiatives. If you are interested in being part of the team, please email anobes@inasp.info
Alejandra Arreola - Universidad Autónoma de Nuevo León, Monterrey, Mexico
Alejandra is a biologist with a master's degree in Science and Technology Journalism from Texas A&M University. She works at the Universidad Autónoma de Nuevo León, in Monterrey, Mexico, where she teaches science writing to both graduate and undergraduate students. She facilitates our research writing courses in Latin America and co-facilitates on some of our global online courses.
Professor Richard de Grijs - Macquarie University, Sydney, Australia
Richard de Grijs is an academic and journal editor with more than 20 years of experience in the field of Astrophysics. After obtaining his PhD from the University of Groningen (Netherlands) in 1997, he held postdoctoral positions at the University of Virginia (USA) and the Institute of Astronomy, University of Cambridge (UK), before being appointed to a permanent post at the University of Sheffield (UK) in 2003. He joined the Kavli Institute for Astronomy and Astrophysics at Peking University (China) in September 2009 as a full professor, where he was promoted to Associate Director in 2012. He moved to Macquarie University (Sydney, Australia) in 2018 to take up an appointment as Associate Dean (Global Engagement). Find out more about Richard at http://astro-expat.info/about.html
Dr. Funmilayo Doherty - Yaba College of Technology, Nigeria
Dr.  Funmilayo Doherty is an Environmental Toxicologist and a lecturer at Yaba College of Technology (YCT). Dr. Doherty is a member of several professional bodies including the Organization for Women in Science for the developing world (OWSD). She has over 45 publications in reputable Journals and co-authored six books. She is a former Coordinator, UNESCO UNEVOC Centre, YCT. She is one of the guest facilitators for AuthorAID online courses and coordinator of the AuthorAID Online Journal Club pilot project, which is focused on Environmental Biology, Chemistry and Toxicology. She is a member of the editorial board of the Journal of Environmental Toxicology and Pollution Mitigation. Dr. Doherty has been invited on several occasions by media organizations to contribute to national discourse on environmental issues in Nigeria. Dr. Funmilayo Doherty is the immediate past President, Society for Environmental Toxicology and Pollution Mitigation (SETPOM) and Vice Chairman of The African Foundation for Quality e-Learning for TVET (AFQueT) based in Kenya.
Ismael Aaron Kimirei - Tanzania Fisheries Research Institute, Tanzania
Ismael is an Aquatic ecologist working in marine and freshwater systems, focusing on fish ecology, aquatic resources management, limnology, and climate change. I study marine ecosystems—mangroves, seagrasses and coral reefs—connectivity for marine conservation and fisheries management. I am interested in how habitat degradation and change—both human and climate mediated changes—will affect the provision of ecosystem goods and services to coastal communities. Currently, I am studying the effect of climate change on fisheries productions in, and functioning of, Lake Tanganyika; and how land use and urbanization are affecting water quality in the great east African lakes. I am also working on how urban development in Tanzania is affecting marine coastal habitats, especially mangroves.
Zainab Yunusa-Kaltungo - Federal Teaching Hospital (FTH), Gombe, Nigeria
Dr. Zainab Yunusa-Kaltungo, is a plastic surgeon, the former chairman of the medical advisory committee (CMAC) and Clinical Governance lead of the project at the Federal Teaching Hospital (FTH), Gombe in north-east Nigeria. Zainab has been a guest faclitator on several AuthorAID online courses.
Dilshani Dissanayake-Faculty of Medicine, University of Colombo, Sri Lanka
Dr. Dilshani Dissanayake is a senior lecturer and the neuroscientist in charge of the neuroscience research laboratory in the Department of Physiology. She is the Director of the research promotion and facilitation centre (RPFC), Faculty of Medicine, Colombo. She is also the secretary of the specialty board for physiology of the Postgraduate Institute of Medicine (PGIM) of the University of Colombo. She chaired the research stream of the BSc Physiotherapy degree programme of the Allied Health Sciences Unit of the Faculty from 2012-2016.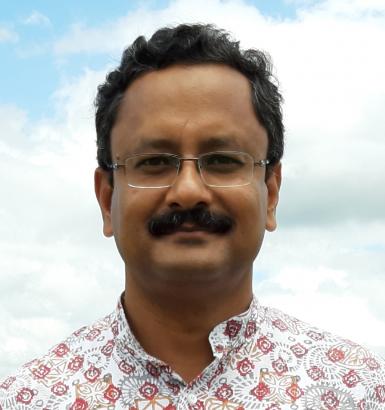 Haseeb Irfanullah - Independent Consultant - Environment, Climate Change, & Research Systems, Bangladesh
Dr Haseeb Irfanullah is a biologist-turned-development practitioner, and often introduces himself as a research enthusiast. Over the last two decades, Haseeb has worked for different international development organizations, academic institutions, donors, and the Government of Bangladesh in different capacities. Currently, he is an independent consultant on environment, climate change, and research systems. He is also involved with University of Liberal Arts Bangladesh as a visiting research fellow of its Center for Sustainable Development (CSD) in Dhaka. Haseeb has served as the editor for the Bangladesh Journal of Plant Taxonomy. His interest in research communication involved him with INASP's activities, particularly BanglaJOL and AuthorAID. Haseeb has been involved in designing and facilitating workshops, training sessions, and dialogues for young & mid-career researchers and journal editors of Bangladesh to improve their understanding of journal publishing practices and standards. A Chef of The Scholarly Kitchen, Haseeb also writes articles and thought pieces on scholarly systems and works with relevant agencies to improve Bangladesh's research ecosystem. Haseeb has a PhD in aquatic ecology from the University of Liverpool, UK.
Aurelia Munene- Director, Eidur African, Kenya
Aurelia is a Kenyan based researcher and research mentor. She co-founded an organization called Eider Africa Limited to enhance research skills for emerging African scholars.  She works as the Research Mentorship Coordinator. She runs a journal club for emerging scholars drawn from over six universities in Kenya and co-develops tailored made research mentorship programs for them. Currently she is beginning to work with few universities to develop and transform research training and mentorship at the institutions. She holds a MA in Development Studies from the International Institute of Social Studies of Erasmus University Rotterdam, Netherlands and a BA in Sociology and Psychology from University of Nairobi. She authors scholarly publications on the topics: Social Protection, Early Childhood Development and Sexual Reproductive Health. She has published in 2 peer reviewed journal articles, 2 book chapters and 3 more journal articles are forthcoming. 
Buna Bhandari - Assistant Professor, Epidemiology, Tribhuvan University, Institute of Medicine, Nepal and PhD Candidate in Public Health, University of New South Wales, Australia
Buna is working as an Assistant Professor of Epidemiology in the Central Department of Public Health at Tribhuvan University, Nepal. Currently, she is pursuing her PhD in Public health at the University of New South Wales, Australia. The focus of her research is on the prevention of cardiovascular disease using mHealth (mobile health) in Nepal.  She also works as a peer reviewer for BMC journals. She has authored book chapters and published multiple papers in various indexed journals. She has more than ten years of experience working as an academician and researcher. She has been involved in teaching-learning activities for medical, public health and nursing students and has independently supervised various student research projects. Her area of interest includes epidemiological studies, NCDS especially cardiovascular diseases, maternal and child health issues like domestic violence and its effects etc. When not working, you can find her reading books, meditating and exploring nature. She is one of the guest facilitators for Author AID online courses.